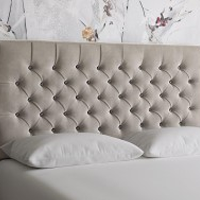 Headboards - Metal, Wooden, Traditional and Modern
Written By Amelia
---
Buying a headboard is a big purchase. A nice headboard can make the difference between a bedroom that's cozy and inviting, and a bedroom that's stark and uncomfortable. Here are some tips for buying the best headboard for your home.
Choose a headboard before you buy your bed
A headboard is often one of the last items to be selected for your new bedroom. Because of this, it is important that you choose the headboard that best meets your requirements. Do you want a simple, solid headboard, or a metal or tufted headboard? solid wood headboards will last longer than fabric headboards, but they may be difficult to position, particularly on curved walls. Although headboards are not essential, headboards can be expensive.
Consider the style of your bed
In general, the more pieces you have on the headboard of your bed, the more expensive it will be. Another consideration is the style of the bed. The look of a headboard often defines the look of the entire room. If you have a Victorian, Victorian revival or honeymoon suite type of bed, you may want to opt for a headboard that is a particular design style. Look at materials Vinyl is the cheapest option, but it's not as hard-wearing as other materials like wood. Glass or wood look nice, but vinyl will last longer, and if it gets dinged, the paint will peel right off. Check your storage space If you have limited space for storage, you may be tempted to go with a slatted headboard, which can fit in the available space.
Choose the fabric for your headboard
Choosing the right fabric for your headboard is just as important as choosing the rest of the room. Fortunately, many fabric choices are available today, including cork, bamboo, white wool, and more. One challenge is to choose a material that complements the rest of the room. Don't want something too bright or bright pink? Choose a fabric with an accent colour in the corner, like orange or red. Don't want something too dark and gothic? Choose a soft, gentle fabric. Size it right You will spend most of your time in your bedroom, so you might as well make sure it's spacious.
Consider your budget
While some headboard manufacturers offer pre-made headboards, this can be a luxury that you can't necessarily afford. Some headboard options are expensive, but there are also cheaper options for those on a budget. Decide where you want your headboard and what size you want You'll want to consider where your headboard will be. If you plan to use it as a nightstand, you'll want to make sure you have a good night's sleep. Other people choose to put a headboard above a bed in the bedroom, to make for a cozy space to get ready for bed in the morning. Headboard height is also an important consideration. Some people are able to sleep comfortably on a headboard that's too high, while others find that they can't get comfortable with a headboard that's too low.
Conclusion
In this round-up, we've found five great headboards that will make your bedroom as wonderful as you are. Check out the headboard for yourself in the gallery below.