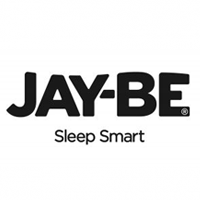 JayBe Mattresses Reviewed 2021
Written By Amelia
---
Jay-Be® is a leading manufacturer of sleep products, with the company's heritage dating back to the early days of the industrial revolution. Born out of a passion for comfort innovation and manufacturing, Jay-Be® has evolved throughout generations to become well known for creating industry leading sleep products which are functional, innovative and environmentally conscious.

As one of the UK's most popular bed brands, they work closely with 100's of bed and mattress specialist stores, as well as many of the world's most famous branded retailers. They enjoy being early adopters of sleep technologies while continually designing new sleep products to set higher industry benchmarks for comfort and quality.

Jay-Be is committed to always evolving their product ranges to satisfy more of their customers' needs. Whether customers choose the folding beds for their Grandchildren's sleepover, or to turn a camping holiday into a glamping holiday; or they choose our sofa beds for friends and family staying over, they are best known for the quality of our products.